Hey guys, this is a new segment of this wiki called Sgt Frog chat. What this is is a series of scripts about conversations between the Keroro platoon and other characters from Sgt Frog. This is fully original content and I hope you like it. Have fun bros!
Sgt Frog Chat #1: Minecraft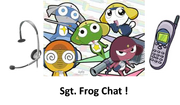 (Keroro is playing on Minecraft on the xbox with his microphone)
Keroro: (humming and singing) I am mining, I am mining.
Giroro: *Grunt*
Keroro: Oh corporal Giroro, you're online.
Giroro: Yes soldier but I'm not mining this time, I'M BLOWING UP YOUR STRUCTURES!!!
Keroro: WAIT WHAT?!?! WHY WOULD YOU DO THAT?
Giroro: 'Cause last time you trolled me and stole all my stuff.
Keroro: Oh, right.
Keroro: WAIT! WAS THAT THE CONDO WITH THE SWIMMIN POOL?!?
Giroro: Yep, even on minecraft I'm a weapons specialist.
Kululu: Kekeke!
Keroro: Oh major Kululu you're on too?
Kululu: Actually, I got on five minutes ago secretly listening to your conversation. It was quite entertaining, Kekeke!
Narrarator: Talk about stalking.
(later on...)
Keroro: Hey..uh...Giroro?
Giroro: What do you want?
Keroro: Is that supposed to be Natsumi made out of wool on the side of this mountain?
Giroro: WHAT?!? Uh, no...it's an explosion with a pink cat on top. That's not Natsumi, that's ridiculous..heh heh.
Tamama: *Clears throught*
Keroro: Wow, private Tamama you're on too? It looks like we're all on here
(Keroro Died)
Keroro: WHAT?! WHO KILLED ME?!
Dororo: Sorry, Keroro. But I had to do so to gain revenge. Remember last time you killed me?
Keroro: (Humming and singing) Making a door trap, making a door trap. Hey Dororo?
Dororo: Yes. Keroro?
Keroro: Why don't you come into my house? I have something to show you.
Narrarator: Keroro had built a door trap as the door of his house.
Dororo: Okay
(five seconds later...)
Dororo: Wait. I'm trapped. Huh, where are all of my pickaxes.
Narrarator: Keroro had also stolen all of Dororo's pickaxes nad left Dororo with just a sapling and some seeds.
Keroro: Ha ha ha! You just got trolled... hey what's that sizzling?
Narrarator: Oh, and Keroro also connected some tnt to the door trap's preassure plate. Pretty smart huh?
(Flash-back-back-to-the-present)
Kululu: Kekeke! I remember that.
Keroro: No one asked you Kululu.
(later...)
Tamama: Permission to retrieve items from chest sir?
Keroro: Permission granted.
(Tamama looks inside chest)
Tamama: Wait, WHO STOLE ALL MY STUFF?!?!
Keroro: What the frog? Looks like he's offline.
Narrarator: Or he destroyed the t.v....and the xbox...and the whole room. Luckily, he lives with a rich girl.
Community content is available under
CC-BY-SA
unless otherwise noted.